Gold Price Hits Month-End Euro Record as Central Bankers Vow Rate Hikes Despite Plunging Data
Wednesday, 5/31/2023 15:09
The GOLD PRICE jumped to 1-week highs against all major currencies on Wednesday, cutting its losses versus end-April's record high monthly finish in US Dollar terms from $50 to $10 per ounce as Chinese, European and US data all pointed to a marked slowdown in the global economy, but central bankers vowed to keep raising interest rates to fight inflation.
The
US debt ceiling deal
now needing approval from the House and the Senate "[will] relieve a big piece of uncertainty about the economy," said Federal Reserve policymaker Loretta Mester, president of the Cleveland Fed, in an interview with the
Financial Times
this morning.
Speaking before May's Chicago PMI data today sent gold jumping to $1972 per ounce with a shock plunge, "I
don't really see a compelling reason
to pause [raising rates]," Mester went on
"I would see more of a compelling case for bringing [rates] up...and then holding for a while until you get less uncertain about where the economy is going."
Against the month's 0.5% drop for Dollar investors, the
UK gold price in Pounds per ounce
was little changed for the month at £1590 – down £5 from end-March's record monthly close – while the Euro price of gold showed a 2.1% gain at €1842, a new month-end record.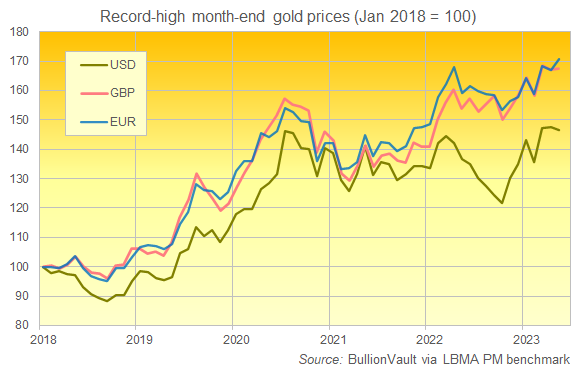 While China's services-sector growth slowed less than analysts expected in May, its
giant manufacturing sector has shrunk
for a 2nd month running, the official NBS data agency said this morning, contracting at the worst pace since December, led by a drop in export sales and employment.
With Europe's private-sector borrowing outside the financial sector
shrinking last month
, Germany's inflation rate for May today followed Spain's preliminary estimate by showing a steep slowdown, dropping over 1 whole percentage point from April's pace to 6.3% per annum on the European Union's harmonized measure of consumer prices.
"Looking at how fast inflation is right now, I think it's very likely that we're in for more than one more 0.25% interest rate hike," said European Central Bank policymaker Madis Muller today, head of the Eeste Pank in Estonia, where consumer-price inflation hit a post-Soviet high near 25% per year in mid-2022 amid the initial market shock from Russia invading Ukraine but has since retreated to 15%.
"Euro area
financial stability remains fragile
amid weak macro-financial conditions and unexpected stress in the banking sectors of some mature economies," says the latest financial stability report from the ECB – now
marking its 25th anniversary
– pointing to how the "interaction between market and funding liquidity can create liquidity spirals that cause systemic risks."
Yet "interest rate hikes are overall a benefit to French and European banks," said European Central Bank policymaker and head of the Banque de France Villeroy de Galhau today.
Like the gold price, global stock markets also showed a monthly drop in Dollar terms on Wednesday, slipping 0.6% from the end of April on
the MSCI World Index
with heavy losses across China and Western Europe offset by a 3.6% rise in Japan and a 6.5% rise in New York's Nasdaq index of tech stocks.
Bond markets rallied on today's Chinese slowdown and Euro inflation news, edging longer-term borrowing costs lower across the board.
But for the month of April, and with most European government yields lower, 10-year US rates showed a 0.25 point rise at 3.67% per annum while the UK's benchmark borrowing cost has risen 0.47 points to 4.18% per annum as the world's 5th largest national economy continues to suffer double-digit inflation.